Debt
Net financial position at 31st December 2015 was negative for Euro 89.9 million compared with a negative amount of Euro 163.3 million at 31st December 2014.
The ratio of Net financial position to adjusted EBITDA is 0.9 times (1.4 times at 31st December 2014).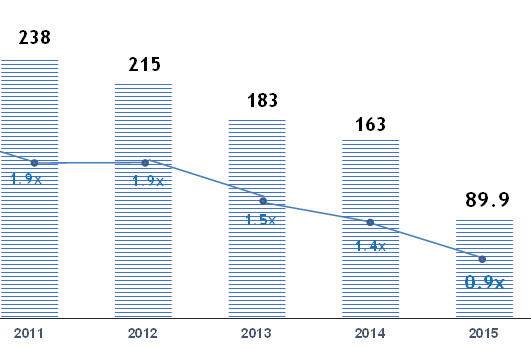 Adj.1 Financial Leverage
The main items of Safilo Group's Net Financial Position, for the last five years, are reported below.

Net Financial Position
Net financial position

(Millions of euro)

December 31,

2015

2014

2013

2012

2011

Total liquidity
86.6
88.6
82.6
59.4
90.4
Bank overdrafts and short-t. bank borrowings
(39.0)
(49.1)
(12.9)
(13.8)
(13.8)
Bonds
-
-
-
(127.6)
-
Current portion of long-term borrowings
-
-
(25.0)
(1.3)
(79.1)
Other short-term borrowings
(5.0)
(26.3)
(36.0)
(40.0)
(39.9)
Debts and other current financial liabilities
(44.0)
(75.3)
(73.9)
(182.6)
(132.9)
Current financial position, net
42.6
13.2
8.7
(123.3)
(42.5)
Long-term bank borrowings
-
(48.6)
(189.3)
(88.8)
(64.6)
Bonds
(132.5)
(127.9)
-
-
(126.6)
Other long-term borrowings
-
-
(1.9)
(3.3)
(4.5)
Debts and other non current financial liabilities
(132.5)
(176.5)
(191.2)
(92.0)
(195.7)
Total
(89.9)
(163.3)
(182.5)
(215.3)
(238.3)
Last updated: November 21, 2017